MEDITATION CD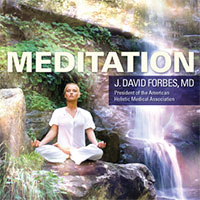 Listen to Dr. Dave's gentle voice guiding you in a loving approach to meditation. This is a fabulous tool for reducing stress and creating more centeredness and balance in your life. It is useful for beginners and advanced meditators alike.
You will find multiple methods to fit different needs. There is a Guided Meditation, especially helpful for beginning to learn the practice, an Open Meditation when you prefer less guidance, and a Brief Meditation for when you need centering and have less time available. In addition there are tracks that have beautiful, non-invasive Native American flute music and then versions without music when one prefers silence. There's something here for everyone!
This is a great CD for anyone who has tried meditation and feels that they just "can't do it". Meditation is not a battle with the mind, and its goal is not to make the mind "be quiet". Meditation, in essence, is about gently being with self and all that arises inside. Many who try meditation become quickly frustrated by the activity of the mind, its constant "chatter", and feel then that they've failed. Meditation isn't an accomplishment or a doing, it's a being with, and that includes the chattering mind. In the words of Dr. Dave's longtime meditation teacher, "Meditation comes from the heart. Meditation is not what you can do, but what you can accept." Slowly over time we learn how to re-center, focus and get out of the battle of trying to make the mind do (or not do) anything in particular. Often in meditation, problems arise specifically because we are trying to use the mind to quiet the mind! Quite an impossibility. Holding self-forgiving, safe, loving space is the most powerful way, including holding loving forgiveness for all the times when we can't seem to find any loving forgiveness!
In addition to its benefits for mental and emotional well-being, meditation has been shown in study after study to have tremendously beneficial effects on the body and its various ailments. Meditation calms blood pressure, reduces stress chemicals and their negative effects, and even changes our brainwave patterns! It also serves to stimulate and enhance our spiritual growth, opening us up to our deeper inner wisdom and allowing the loving guidance of our inner Divine connection to move more consciously and powerfully in our lives.
$11.95 + $3 S&H or $9.95 for MP3 download